In an effort to raise funds for the quilt guild, an Opportunity Quilt is made yearly by guild members. This quilt is raffled off and the funds help support guild programs like our monthly meetings and comfort quilt program which donates quilts to local nonprofits.
Due to the Covid 19 Pandemic restrictions, there will not be an Opportunity Quilt raffle in 2021.
The 2020 Opportunity Quilt is a beautiful embroidered quilt titled " Valley Blossoms". This quilt measures 64″ square and was created by Linda Cottingham, Sandy Clark, Evelyn Hilton, Gayle Machado, Peggy Pearce, Jill Petrucci, Lynn Psaltis, Pat Rosander and Diane Sakamoto. Quilted by Sandy Clark.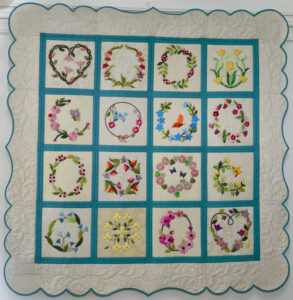 Congratulations to our 2019 Opportunity Quilt Winner: Jennifer Davey
Quilt Top/Piecing: Sandy Woods (far left)
Quilting: Michele Carlson (far Right)