Bag Making
Our guild has committed to supporting local agencies that have close ties to those in times of need. The non-profit agency, Kases for Kids has been our link to connecting with many of these special groups, distributing duffle bags with accessory bags to children in foster care, and Dream Bags to victims of human trafficking. We create kits for these bags that our members take and make, as well as specially designated Sew Days for bag making. Our annual goal is to complete 50 each of the Duffle, Accessory and Dream Bags. The Dream Bags we make, we also fill with a specific list of personal care items designated to aid rescued victims of trafficking. Click on the name of the item for the pattern.
Duffle Bags: Finished size: 22″ x 12″ x 9″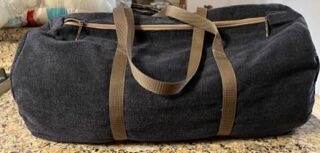 Accessory Bags: Finished size: 9″ x 7″ x 3″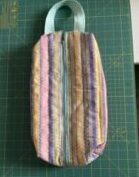 Dream Bags: Finished size: 18″ x 8″ x 4″
Comfort Quilts
Comfort quilts are exactly what they sound like. They give comfort to those who need it. Some may go to keep wheelchair patients warm in hospitals or hospices, others may ride around in a plastic bag in a police officer's trunk until needed to comfort a child in crisis. There are many different needs, and all appreciate every item bestowed on their organization.
Recipients of Comfort Quilts have included: patients at dialysis centers and healthcare facilities, residents of the Marjaree Mason Shelter Program, military veterans, foster children or those removed from their homes on an emergency basis, children of Kaiser oncology patients, adoptive families, disaster victims, Fresno Police Chaplains, and Make-A-Wish Foundation.
Quilts of Valor
Quilts of Valor program honors our local veterans presenting them a hand made quilt by guild members. It's the guild's way to show appreciation and thank all those who served in the military.